Supermodel is the second studio album by American indie rock band Foster the People. The album was
co-produced by their frontman Mark Foster and British musician Paul Epworth, and was released by Columbia Records on March 14, 2014 in Friday-release countries and March 18, 2014 in the United States. It is the follow-up to
the band's 2011 debut album, Torches.
A concept
album, Supermodel features common and heavy themes of negativity towards modern popular culture and consumer ideology throughout the record and its related artworks. Conceived mostly by Foster, the album deals primarily with social issues and "the ugly side of capitalism", issues that had affected and fascinated Foster during the creative process of the album. Recorded and produced throughout 2012 and 2013, the album also features a minor departure from the sound of Torches, importing instruments and various sounds of different cultures of the world while retaining the "perfect pop record" sound.
The album was heavily promoted by the band and Columbia Records in the lead-up to its release, with an accompanying documentary series of the same name and a 130-foot mural painted in Los Angeles, the largest
on the West Coast of the United States. The album was preceded by three singles released by Columbia in 2014: "Coming of Age" released in January 2014, "Pseudologia Fantastica" in February, and "Best Friend" in March. It's album artwork was designed by Young & Sick.
BackgroundEdit
Forming in 2009, Foster the People released their debut album Torches in 2011. The album, produced by Paul Epworth, Greg Kurstin, Rich Costey, Tony Hofferand Mark Foster, was released to positive reception, and peaked at number eight on the Billboard 200 in the US and number one on the ARIA Albums Chart in Australia. It has been certified platinum in Australia,[1] and gold in the US,[2] Philippines and Canada.[3] The album was also nominated for the 2011 Grammy Award for Best Alternative Music Album, losing to Bon Iver's Bon Iver, Bon Iver. Capitalizing on their success following the release of Torches, six singles were released by the band across 2011 and 2012: "Pumped Up Kicks", which became a major hit worldwide, peaking at number three on the Billboard Hot 100 and topping the Australian, Canadian, Polish and Slovakian singles charts; "Helena Beat", which topped the Canadian singles chart and became the most played track on Australian radio station Triple J in 2011; "Call It What You Want", which has been certified Gold in Australia; "Don't Stop (Color on the Walls)", which has been certified gold in the United States and Canada; "Broken Jaw / Ruby", which was released exclusively on Record Store Day; and "Houdini", whose companion music video was nominated for Best Short Form Music Video at the 55th Annual Grammy Awards.
To follow up Torches, frontman Mark Foster wanted an album with "more grit" than Torches, and looked to British rock bands such as The Clash and The Kinks for inspiration.[4] He also cited influences fromWest African music and David Bowie, complimentary to a need for the band's music to be more instrumentally based rather than electronic as additional driving factors in the creative process.[5] Foster spoke to music magazine Rolling Stone in August 2012, stating:
"One thing about Foster The People is that it's taking pieces of a lot of different genres of music and kind of melding them together. In the first record, I was looking at my vision for the project through a piece of opaque glass. This next record's going to be more evolved; it's

going to be a clearer picture of what I've had in my head when it comes to that vision. Working on this project and getting deeper into electronic music is gonna help bring a deeper colour in the next Foster record."[6]
Reception
Edit
Supermodel was met with mixed reviews upon release. Although the majority of the reviews compare and contrast the album with the band's debut studio albumTorches, critics have both praised and criticized the sound of the album, the themes of the album, and the contrast between the
instrumentals and the darker lyrics. At Metacritic, which assigns a normalized rating out of 100 to reviews from mainstream critics, the album received an average score of 61, which indicates "generally favorable reviews", based on 14 reviews as of March 18, 2014.[21]
At USA Today, Brian Mansfield rated the album three stars out of four, writing that "Supermodel is global-minded pop unspooled to ambitions furthest edges."[31]Fender featured the album on its website as its "album of the month". Website author "MDuffy" wrote that the band's "adventurous spirit helped produce an exceptional album, one that shows the band taking a step forward in their fully-pumped kicks."[32] Uncut also gave a positive review of the album, stating in their April 2014 issue that "The sound they've fashioned is glossy and supersaturated while still exhibiting the subversive impulse that yielded the supremely catchy but subtly sinister smash 'Pumped Up Kicks'".[30] Melanie Haupt of The Austin Chronicle stated that the band, "working on an epic, operatic canvas, hide the spinach of existential angst into

binge-worthy dance pop".[24] John Aizlewood, writing for Q, commented on the album in their April 2014 issue, stating that "the occasionally super Supermodel is an album of transition rather than a definitive statement".[26]
Garrett Kamps of Spin, however, wrote negatively of the album, stating that the "devilishly catchy" and "very, very enjoyable" of Torches was "virtually impossible with Supermodel", citing that "The songs suck, which is odd, because the formula has not dramatically changed". Kamps further went on to compare the music to other artists, such as "Pseudologia Fantastica" with the music of MGMT, "The Truth" with James
Blake and The Antlers and describing "Coming of Age" as the band attempting to "rip themselves off". He also wrote that the band were "behind the times", and that "Supermodel's failing is that it's copying one of the foundational records of this trend, which is, you guessed it, Torches. It's hard to think outside a box you built yourself".[29] Reed Fischer writing for Alternative Press also commented negatively on the album in their April 2014 issue, according to him it is "all flash and no substance", and the "umpteen attempts at serious lyrics topple this album right off the runway".[23]
Benji Taylor of Clash wrote a mixed review of the album, describing it as "an unashamedly vibrant collection of variegated pop songs" but commenting that "the uplifting instrumentation is often at odds with the dark themes explored".[25] Nick Suárez of the Leeds Student also wrote a mixed review of the album, commenting that the album is "a good record, just not a great one" He writes that "while this is a departure for the band, it is open to debate whether it represents a progression as such; the cavernous 80s-influenced sound of "Ask Yourself" will no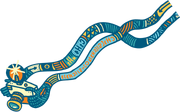 doubt have its admirers, but the ultra-polished production occasionally borders on the saccharine, leaving a longing for the fuzzy edge of their early work." He further stated that "that's not to say that the album is without its highlights", citing "the west african-influenced shuffling rhythm and chorus of 'na na nas' on 'Are You What You Want To Be?' is Vampire Weekend on steroids, whilst the gentle finger picking on 'Nevermind' transforms into a towering behemoth of pulsing bass, and wailing guitar solos abound".[33]
Consumer reception
The album received favorable reviews from the public and amateur reviewers and review websites. At Sputnikmusic, which allows its users to vote out of a rating of 5.0 rounded to one decimal place, the album received an average score of 4.0 which indicates the album to be "excellent", based on 240 reviews as of

March 19, 2014.[34] Additionally, at Rate Your Music, which allows its users to rate an album out of a normalized rating of 5 stars, the album received an average score of 2.73, based on 104 reviews as of March 19, 2014
Track listing
Edit
Supermodel
No.
Title
Writer(s)
Producer(s)
Length
1.
"Are You What You Want to Be?"  
Mark Foster, Greg Kurstin
4:30
2.
"Ask Yourself"  
Foster, Kurstin
4:23
3.
"Coming of Age"  
Foster, Isom Innis, Jacob Fink, Sean Cimino, Paul Epworth
Epworth, Foster
4:40
4.
"Nevermind"  
Foster, Kurstin
5:17
5.
"Pseudologia Fantastica"  
Foster, Epworth
Epworth, Foster
5:31
6.
"The Angelic Welcome of Mr. Jones"  
Foster
0:33
7.
"Best Friend"  
Foster, Innis
4:28
8.
"A Beginner's Guide to Destroying the Moon"  
Foster, Epworth, Mike Volpe
4:39
9.
"Goats in Trees"  
Foster, Epworth
5:09
10.
"The Truth"  
Foster, Innis, Matthew Wilcox, Luca Venter
4:29
11.
"Fire Escape"  
Foster
4:22
Total length:
47:57
[hide]Supermodel Pre-order edition
No.
Title
Length
12.
"Tabloid Super Junkie"  
6:00
Total length:
53:57
[hide]Supermodel Japanese edition
No.
Title
Length
12.
"Cassius Clay's Pearly Whites"  
2:37
Total length:
50:34
Ad blocker interference detected!
Wikia is a free-to-use site that makes money from advertising. We have a modified experience for viewers using ad blockers

Wikia is not accessible if you've made further modifications. Remove the custom ad blocker rule(s) and the page will load as expected.